BRING BACK DSO!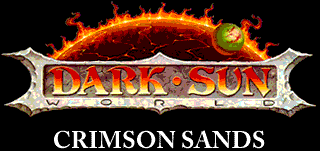 CTRL-D TO BOOKMARK THIS PAGE!
---
This page is best viewed with Netscape Navigator. Don't forget to refresh/reload. Please-POST!

---
This website is in support of Dark Sun Online. Dark Sun Online was a SSI game hosted by the Total Entertainment Network (TEN), which unfortunately dropped hosting of DSO due to changes in the company. TEN is now Pogo.com, and does not carry DSO any longer. However, many former players still feel that DSO is a worthwhile game, and are willing to support it. This website is set up in an effort to bring back Dark Sun Online, so that loyal players may once again play the game that they came to love.
Bringing back a game such as DSO is no easy task. It will take the full support of former players, and this website will attempt to allocate resources and uncover available options. Once enough information has been gathered, perhaps we will be able to once again walk the crimson sands of Dark Sun Online. While this page is just now getting started, it will be updated as frequently as possible. It is important that people actively discuss the revitalization of DSO.





You can join our chat room on the irc.stratics.com network in channel #dso

Want to join the Dark Sun Web Ring?
[Skip Prev][Prev][Next][Skip Next][Random]

In loving memory of OMM Melodias.